Aquatic veterinary medicine is emerging as a niche field of study within veterinary schools, but as the International Association for Aquatic Animal Medicine (IAAAM) points out: "No veterinary college has a comprehensive program for specializing in aquatic or marine mammal medicine." That's because the typical veterinary college is built around a generalized four-year program focusing on cat, dog, cow and horse medicine, but some may have elective or specialized training available in non-domestic species, such as amphibian, fish, reptiles, pet birds and even poultry, according to the IAAAM.
Students interested in aquatic medicine can turn to post-DVM work, like fellowships, in aquatic or fish medicine, to gain more skills in the field. They could also seek employment opportunities in aquatic medicine, although these positions are typically hard to come by especially fresh out of school, reports the IAAAM. Another alternative suggested by the IAAAM includes gaining experience in private practice and then applying for an aquatic medicine internship in a place like the National Aquarium in Baltimore, the Florida Aquarium or another site. Education, practical experience and volunteering can go a long way, according to the IAAAM, and to that end, we have put together a list of five outstanding aquatic veterinary programs. These are noteworthy simply for the aquatic animal health programs and services they offer. We have done our best to provide some of the most fundamental details about these programs, but offerings do vary as do the details and types of information readily available online.
Finally, students who may be interested in the aquatic veterinary medicine field may want to consider certification offered through the American Fisheries Society. Indeed, the two certifications are available and include: the Certified Fish Pathologist and Certified Aquatic Animal Health Inspector. DVM graduates may also be interested in joining the World Aquatic Veterinary Medicine Association and eventually becoming eligible to seek board certification through the American College of Zoological Medicine.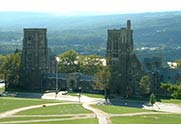 Cornell University has an Aquatic Animal Health Program known as AQUAVET that offers immersion training into the field of aquatic medicine. The program, co-sponsored by Cornell with the School of Veterinary Medicine at the University of Pennsylvania, began in 1977 and focuses on disease in cultured fish, development of fish vaccines, fish health management in aquaculture systems and pathology of wild fish, especially where it may tie into environmental contamination. Two research laboratories are available to support research into aquatic toxicology, bacteriology, immunology, pathology and virology. The program also oversees the school's wet lab facilities, which have been designed to maintain aquatic animals and are capable of containing serious pathogens while managing water quality control. According to the Cornell website, these wet labs are considered some of the best available for undertaking aquatic animal health research.